Does being "religious" earn you a place in heaven?
No. How about your church
attendance or the church rituals you've gone through? No. How about trying to be good,
or simply believing that God exists? No, none of these will solve the problem of your soul.
You matter so much to God. What better time to see what's true
-- and settle
the status of your soul? It can CHANGE your ETERNITY…and your LIFE.
Life is short and eternity is long, so don't get this wrong.
Watch the video clips.
Check out the links. Get answers. See facts. Make your decision. Take The God Dare.

Enjoy watching the video clips below. And click links on the sidebar and the bottom
of this page to get answers to your questions...and the evidence you deserve!


1. Do GOOD people go to heaven?
Take this test and see if you're a good person
.

2. What is GOD like? Tell me about His love for me.

Pastor Greg Laurie of
Harvest Christian Fellowship
and
KnowGod.org
explains.



3. Why is JESUS the ONLY WAY to heaven? Isn't that narrow?
Dr. Bobby Conway, the
OneMinuteApologist
and pastor of
Life Fellowship
, answers.




4. If God is GOOD, why is there suffering and evil?
This animated video creatively and accurately answers this age-old question.




5. Do you believe in a FAKE Jesus OR the REAL JESUS who can save you?
The Jesus of the Bible VS. the "Jesus" of Mormons, JWs, Bahai and Islam





6. Why doesn't "RELIGION" work? And why do I NEED Jesus?

See author, speaker and EX-Muslim David Nasser's engaging response and story.





7. Why were people so AMAZED by Jesus when He walked the earth?
View this simple music video featuring clips from the classic film "Jesus of Nazareth"
Click to see evidence that Jesus is God
.




8. Why doesn't being GOOD earn me salvation and heaven?
Dr. Bobby Conway digs deeper into this crucial question.




9. Give me some SCIENTIFIC and PHILOSOPHICAL evidence for God.
In this video clip, Dr. Frank Turek gives his "SURGE" argument - The Second Law
of Thermodynamics, the Expanding Universe, the Radiation Afterglow from the Big
Bang Explosion, the Great galaxy seeds in the Radiation Afterglow, and Einstein's
Theory of General Relativity.



10. How can a God of LOVE send people to hell?

Pastor Greg Laurie tackles this important question.



11. What does it mean to be a FOLLOWER of Jesus Christ, not just a FAN?
The answer...
everything
! Watch this important message from
Pastor Kyle Idleman
.
Must-read book and website:
NOT A FAN
.





12. How do I get RIGHT with God? How can I KNOW God and FOLLOW Him?

How can I be FORGIVEN my sins and be assured eternity in HEAVEN?
Pastor Greg Laurie
answers. Also see our pages
"How to Know God"
and
"Why Only Jesus"
To get the FREE BIBLE that Pastor Greg mentioned in Video #12,
click here
.

13. I just genuinely prayed to God along with Pastor Greg in video #12.

NOW WHAT??
See how to start your NEW LIFE as a CHRIST-FOLLOWER.
GO DEEPER: Relevant Bible messages for your life
Seekers will get more questions answered. Christians will grow in their relationship with Christ.
> Greg Laurie: Harvest Christian Fellowship -- Free app | Watch | Listen | Daily Email
> Raul Ries: Calvary Chapel Golden Springs -- Watch | Listen | Daily Email

BIBLE APP: Read the Word of God... anytime, anywhere
Free download For iPhone, iPad, Blackberry, Android

Start reading the Bible in the Gospel of John (New Testament, right after Luke).
POWER SERIES: "Essentials: What Every Christian Needs to Know"
Pastor Greg Laurie digs into the Bible to help you see for yourself who God is, why Jesus had to die,
how to know God's will for your life, overcoming temptation, the reality of angels and demons, more!
Watch on YouTube OR Get free app & select "Essentials of our Faith"
GET CONNECTED: Find a SOLID Christian, 100% Bible-teaching church...
We suggest you start by identifying local churches that call themselves "non-denominational"
(usually referenced on their web site under their "beliefs" or "about" pages). A good place to
begin your search is with Calvary Chapel non-denominational churches. Find a church.
________________________________________________________________________________________________________________________
Understand: Why Christianity is TRUE
See the evidence that God exists, the Bible is true and Jesus is God

Explore these sites for answers to thoughtful questions by skeptics, seekers & Christians:



_________________________________________________________________________________________________________________________

Watch: From atheist to Christian -- Lee Strobel's story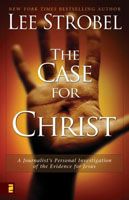 JESUS SAID, "I am the way and the truth and the life. No one
comes to the Father except through me."
-- The Bible, John 14:6
What's the evidence this claim is TRUE?
And what does it mean for YOU?
Former atheist and legal editor of the Chicago Tribune,
Lee Strobel
, shares key points
from his
2-year investigation to try and disprove Christianity.
In the end, he became a
Christ-follower. WHY?
See evidence and hear his story.
View the 5 video clips below.